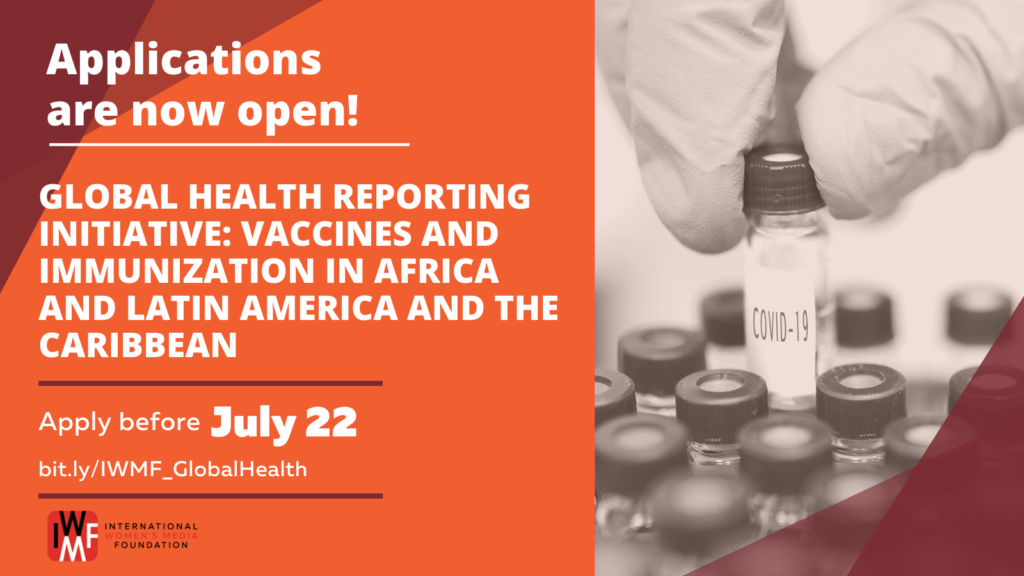 The IWMF has launched a Global Health Reporting Initiative, focused on Vaccines and Immunization, for journalists in Africa and Latin America and the Caribbean.
We will select a cohort of 30 journalists from these regions to participate in an online, English-language course. From September to December 2021, our cohort will have access to global and regional experts, trusted sources, and evidence-based information on vaccines and immunization. Once the course is complete, participants will also be able to apply for competitive reporting grants and mentorships to report on urgent issues, like vaccine acceptance and demand and the impact the COVID-19 pandemic and vaccine is having on routine immunization programs.
Who is eligible to apply? The Global Health Reporting Initiative is open to women, men, and non-binary journalists with 2+ years of professional journalism experience, regardless of their beat. Early and mid-career journalists, as well as senior investigative journalists, are encouraged to apply, especially those who cover scientific or health stories.
To apply, journalists must create a free account on Submittable and complete this application form by July 22 at 11:59 pm EDT: http://bit.ly/IWMF_GlobalHealth.