Ghanaian journalist Jonas Nyabor, working with Dubawa Ghana, won the inaugural Fact Check of the Year by a Professional Fact Checker award at the Africa Fact-Checking Awards for his report on a trending Twitter campaign #JusticeForAlbert. He told fraycollege why he became a fact-checker.
How did you become a Fact Checker?
Fact-checking has always been part of my editorial processes as a journalist; however I took a deep dive into it after I was exposed to the work being done by Dubawa (only in Nigeria at the time). Fortunately, I had the opportunity to undergo formal fact-checking training by the organization months later. That kickstarted my journey as a fact-checker.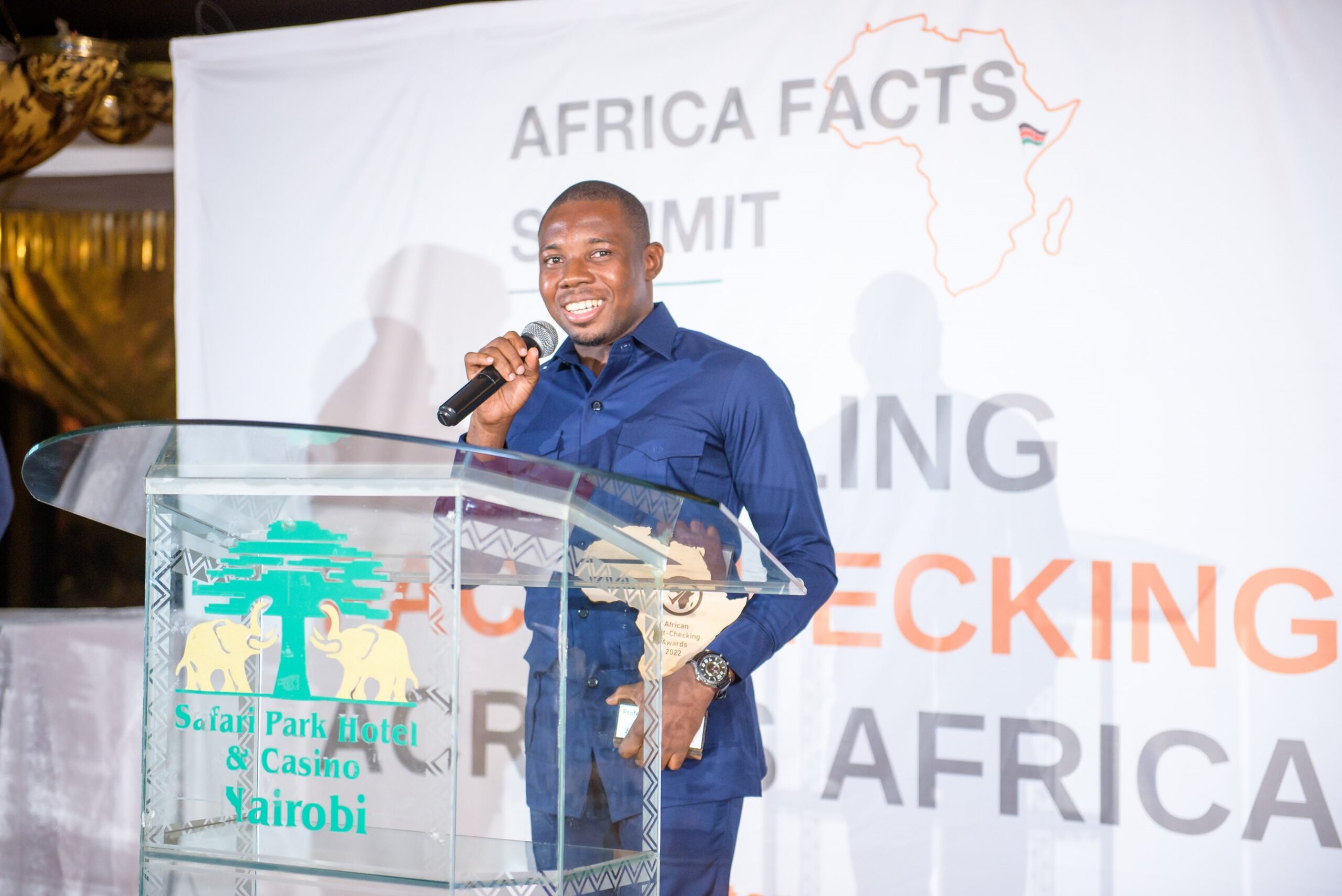 What made you pursue this path?
I think I was getting frustrated that traditional media in Africa – which was previously well respected as the source of credible information – was gradually becoming a platform for spreading misinformation as a result of heavy reliance on social media conversations.
I have had a friend suffer a health complication after following advice on a medical condition from a Facebook group in the past and that was also a motivation.
Every day on this journey as a fact-checker, I rediscover the relevance of my work as a fact-checker and its importance to save people from falling for dangerous health misinformation, safeguarding democracies and promoting social cohesion.
Your award-winning fact check focused on a trending Twitter campaign #JusticeForAlbert about a man who reportedly died two days after receiving a COVID-19 vaccine. What made you decide to fact check the tweets?
As fact-checkers we know that when a subject matter weighs heavily on people's emotions, the tone is set for mis/disinformation to thrive. I decided to investigate this because, while the story was moving and touching, there were some inconsistencies. Also, the first tweet preyed on people's emotions rather than the facts of the issue.
The speed at which the issue went viral was also quite curious for me, and triggered my attention to the fact that it possibly was being artificially amplified, indeed it was.
Can you outline your investigation process?
Find a fact-checkable claim: What is the nature? What is the area or point of contention? What form does it take? – Text, video, or audio or a combination?
Weigh its relevance for fact-checking: Is the claim harmful? Will my work help bring clarity or correct the 'fact' being put out? Will my work rather spread the disinformation?
Assess the medium of spread: Is this claim in the mass media or dark web? Is it on a single platform or cut across platforms? Who is it potentially targeting?
Relevant tools and sources: List the potential tools and sources relevant for unraveling the truth of the claim.
Write the report
You found that this was a genuine call which appeared to be hijacked by accounts that appeared to be part of a coordinated operation to discredit vaccines. How then should journalists approach such trending posts?
I think a general rule will be to first view it with a dose of skepticism and avoid immediately jumping on the post to amplify it. Journalists should run a few basic checks to find out who the source of the claim and if the person is an interested party or has a history before setting out to counter or amplify viral/trending posts.
It is also very helpful to map out the network involved in driving the trending post.
What is the most important thing to consider when fact checking any information.
It is difficult to single out one consideration when fact-checking, but I'll generally say fact-checkers must be wary of our personal biases when doing our job.
Also, we should carefully review the tools, materials including reports or documents we rely on to debunk claims. The sources or tools must be credible, and deliver impartial results.